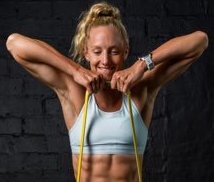 I'm joined in studio by one of the greatest prospects to hit the world of Triathlon, Emma Pallant-Browne.
She was an exceptional runner, she just missed the Great Britain Olympic team for the 1500m & 5km at both Beijing and London Olympics.
In her short time as a professional Triathlete, she has finished 2nd at the Ironman 70.3 World Champions, won two Duathlon World titles, and won 17 Ironman 70.3's. She has developed her swim and bike to the point she has no weaknesses. And she continues to improve. Her momentum is building.
I have zero doubt, I am speaking with the next great champion of the sport of Triathlon.
I'm honored that she would take time out of her busy schedule to sit and chat with me.
In this episode, Emma describes her journey into the sport of Triathlon from running and how she loves to train hard but loves to race even more. She discusses the importance of her team, specifically her husband Jaryd, and coach Tim Don.
We discuss Sleep and recovery, training, mental strategies and so much more in this one.
We finish with some fast questions at the end of the show... don't miss these... inspiring, fun, and very entertaining.
See below for Deals and Coupon Codes, Show notes, Timestamps, and Links
Athletic Greens - a FREE year supply of Vitamin D AND 5 FREE travel packs with your first purchase by visiting
athleticgreens.com/greg
FormSwim Goggles -
formswim.com/greg
for $15 off - The coupon will be automatically added to the cart. Or use code GREG2021 at checkout.
"The Greg Bennett Show" -