Greg Bennett chats with the world's greatest athletes and high-performers to find out how they got the top of the world and how are they able to sustain it. Join Greg Bennett, Olympian, World Champion and former world number one Triathlete, for some inspiring and entertaining stories.
Episodes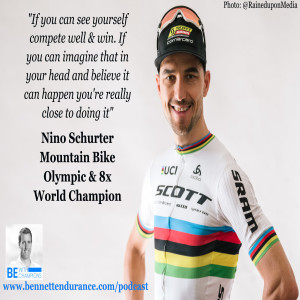 Monday Mar 30, 2020
Monday Mar 30, 2020
Nino Schurter is arguably the greatest mountain biker of all time. He's raised the bar on what it takes to win.

A brief glimpse of his resume is extraordinary:

Three Olympic medals with Gold in Rio, Silver in London, and Bronze in Beijing. He's an 8 x World Champion. A 7 x World Cup Series Champion. He's won 32 World Cups, plus Junior World Championships, 2 x U23 World Championships, 5 x Team relay World Champion and an unheard-of an undefeated perfect season in 2017. 

And when he's not winning, he's on the podium. His passion for what he does is visible in his training, racing and his everyday life. 

He's an incredibly well-rounded champion—With tremendous Desire, Discipline, and Dedication combined with a real love for what he does, you can see the fun he has on a bike… and all of this makes him one of the most relatable champions in the world.

He's living his life with absolute intent and optimizing everything he can to get the most out of himself.

One of the world's all-time greatest athletes!