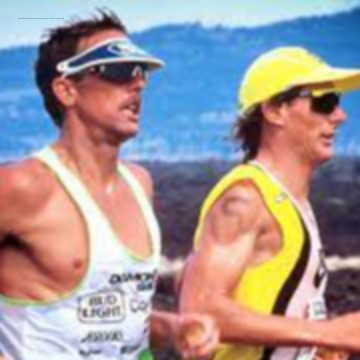 These days in the sport of Triathlon we love to throw around names like Jan Frodeno, Alistair Brownlee, Javier Gomez as being the greatest of all time, and obviously, they're all in the conversation.
But, when I rewind the clock there are other names that we need to start throwing into that discussion, Simon Lessing, Scott Molina, Greg Welch, Brad Bevan, Mike Pigg.... and the list goes on.
And then there are two that I look at, that influenced my desire to become a professional Triathlete more than anyone else. And I believe, They have impacted the sport as a whole more than anyone else. They have been on this show separately in episodes 5 and 7. But today I'm joined with both of them on the show together.
What a privilege it is to have Dave Scott sit with me in the studio and Mark Allen call in.
We discuss the Collins Cup from the past week, Ironman Kona – or lack thereof, the sport of Triathlon as a whole, and well, anything and everything. We end with some fun rapid-fire questions.
Athletic Greens
-
a FREE year supply of Vitamin D AND 5 FREE travel packs with your first purchase by visiting
athleticgreens.com/greg
FormSwim Goggles -
formswim.com/greg
for $15 off - The coupon will be automatically added to the cart. Or use code GREG2021 at checkout.